Indus pioneered introduction of Conveyorized Auto-Brazing technology to produce up to 12 rows of All Aluminum HEX Coils using Al fin with Al tube diameter ranging from 5mm to 12.7mm (1/2") in both plain & rifled surface.
Indus offers a wide selection of Fin Pattern using bare as well as pre-coated (hydrophilic / hydrophobic) fins with varied fin pitches and tube thicknesses to meet customers' design pressures per industry standards for all conceivable applications.
Our products are UL Certified & compatible with commonly used refrigerants in the industry including natural & flammable low GWP refrigerants like R290.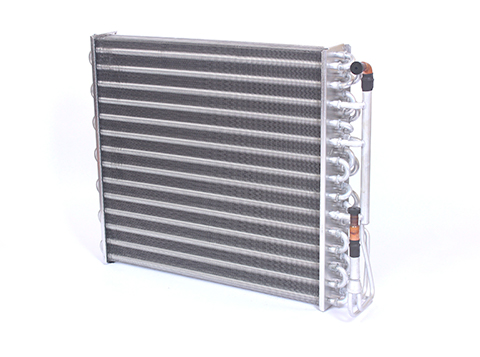 Indus All Aluminum Coils are
Direct substitute to Cu tube Al fin Coils with similar performance & design pressures
Durable with no occurrence of Galvanic corrosion & no effect of formicary corrosion
Light weight, low cost to offer competitive advantage to customers
Indus all Aluminum Coils come with robust Copper End Connection for ease of assembly at customer's end. Our engineering team works closely with customers' engineering team to select an optimum design to offer cost effective product to meet their performance requirements.
Fin Pattern
Tube Dia
Geometry
FIN Surface
FPI
Fin Spacing
mm
inches
mm
inches
5mm
20 x 17.32
0.787" x 0.682"
Sine Wave, Louvered & Flat
5 - 22
5.08-1.15
5mm
19.05 x 16.5
0.75" x 0.65"
Sine Wave Lanced & Flat
8 - 20
3.18-1.27
6.35mm
1/4"
19.05 x 16.5
0.75" x 0.65"
Sine Wave & Flat
5 - 10
5.08-2.54
7mm
19.05 x 16.5
0.75" x 0.65"
Sine Wave, Louvered & Flat
6 - 20
4.23-1.27
7mm
25 x 21.65
0.984" x 0.85"
Sine Wave Tsunami & Louvered,
Corrugated & Flat
6 - 20
4.23-1.27
7.94mm
5/16"
25 x 19
0.984" x 0.75"
Sine Wave & Corrugated
8 - 19.5
3.18-1.30
7.94mm
5/16"
25.4 x 15.875
1" x 0.625"
Sine Wave Tsunami Lanced & Flat
6 - 21
4.23-1.21
9.52mm
3/8"
25.4 x 25.4
1" x 1"
Flat
3 - 18
8.46-1.41
9.52mm
3/8"
25 x 21.65
0.984 x 0.85"
Sine Wave & Corrugated
5 - 17
5.08-1.49
9.52mm
3/8"
25.4 x 15.875
1" x 0.625"
Sine Wave Tsunami Louvered
7 - 21
3.63-1.21
9.52mm
3/8"
25.4 x 19.05
1" x 0.75"
Corrugated
6 - 18
4.23-1.41
9.52mm
3/8"
25 x 25
0.984" x 0.984"
Sine Wave & Flat
8 - 17
3.18-1.49
9.52mm
3/8"
25 x 12.5
0.984" x 0.5"
Sine Wave & Flat
8 - 17
3.18-1.49
9.52mm
3/8"
25.4 x 22
1" x 0.866"
Sine Wave Corrugated Tsunami,
Lanced & Flat
3 - 22
8.46-1.15
12.7mm
1/2"
31.75 x 27.5
1.25"x 1.082"
Corrugated
5 - 21
5.08-1.21
Tube - Copper & Aluminium - Smooth and Rifled / Grooved