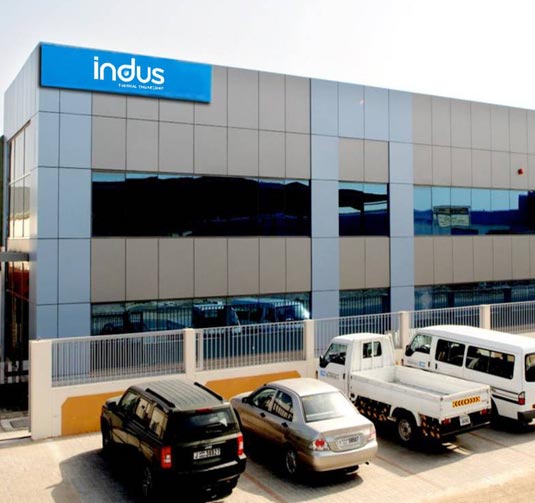 Indus pioneered to introduce automotive air-conditioning systems in India in 1969 and moved to UAE in 2003 to become one of the leading designer, manufacturer & supplier of Heat Exchanger Coils (Evaporators, Condensers & Heaters) to the global HVAC and Refrigeration industry, including customers in the list of 'Fortune 500' companies.
Our outstanding service, crucial engineering support and uninterrupted supply chain of high-quality products have helped us in creating and nurturing long-standing relationships with leading OEMs worldwide.
With a focus on Innovation and providing Engineering Solutions, we strive to create an organization that exceeds customer expectations on every parameter of product, service & quality and provides our employees with a fulfilling & challenging work environment.
We design, we manufacture, we innovate and we deliver: with total commitment to customer satisfaction that has led to our rapid ascent to becoming a global player and leading supplier to major OEM's in the HVAC, Refrigeration and Industrial cooling sectors. Our products include:- Evaporators & Condensers for a wide variety of applications
History
Set up in 1969 Indus was the first company to introduce automotive A/C systems in India. Though functioning primarily as a distributor in the early years, the company set up its first manufacturing near Mumbai in 1989 to manufacture auto A/C systems and heat exchangers. And since then there has been no looking back and Indus became an OE supplier in 1994.
By 1996 the company had built up the capacity to manufacture 200,000 heat exchangers a year with OE supplies to two leading automotive majors in India. The next few years were witness to a period of rapid growth for the company; the high quality of Indus products led to them being chosen by some of the leading OEM's worldwide in HVAC systems especially for off-road mobile applications.
2003 was a pivotal year for the company with the commissioning of a brand-new manufacturing facility in Dubai dedicated for global market.
The next few years saw Indus growing to even greater heights with the expansion of the Dubai and the addition of several prestigious clients to the company's roster including several Fortune 500 corporations. In 2008 – 2009 the company made another leap into the future with the launch of their Green Fin pattern, a significant development in fin geometries resulting in a substantial reduction in material usage & refrigerant charge, thus reducing CO2 emissions & carbon footprint. Subsequently, Indus introduced mini channel 5mm tube-fin geometry which further reduced refrigerant charge to support global environment.
Milestones
2019
Introduction of 5mm Al tube for improved performance and cost.
2017
Introduction of R-290 heat exchanger with 5mm Cu tube design.
2012
Launched Aluminium coils manufactured on automatic brazing line.
2011
Introduction of "i-Coat", a nano coating process providing high anti-corrosion protection for Food Service, Refrigeration & HVAC Industry.
2009
Expansion of operations in an integrated manufacturing facility in Dubai to enhance capacity.Launched 7mm Green Fin Tsunami Design.
2003
Commissioning of a manufacturing facility in Dubai and launch of the revolutionary Tsunami Fin design.
1996
Built up capacity to manufacture 200,000 heat-exchangers and became OEM supplier to 2 leading automotive majors.
1989
Set up a plant in India to become an OEM supplier to leading HVAC & Automotive manufacturers.
1969
1st company to introduce automotive AC systems in India.
Indus Team
Indus team consists primarily of engineers and management professionals. The team combines years of experience with a passion for engineering and a wealth of knowledge and practical knowhow.
Our belief in structured processes is reflected in the effective management structure that has been put in place. This enables us to greatly streamline our operations and give you constant improvements in product design and manufacturing quality.